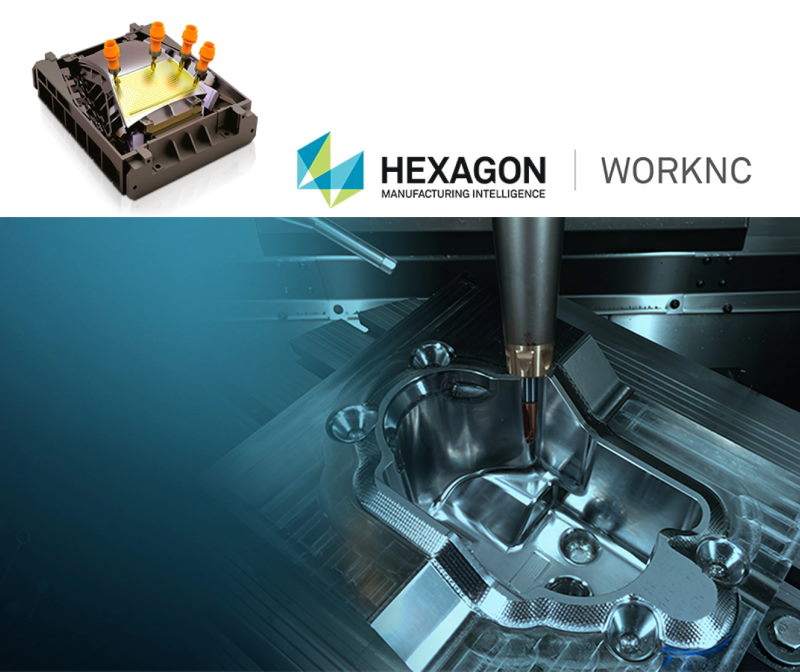 WorkNC 2022.1 - NOVOSTI v verziji 2022.1

WorkNC 2022.1
WorkNC 2020 - NOVOSTI v verziji 2020

WorkNC 2020
WorkNC 2017 - NOVOSTI v verziji 2017 R2

WorkNC 2017
WorkNC 2016 - JE SEDAJ NA VOLJO !

WorkNC 2016
WorkNC V24 - JE SEDAJ TU !

WorkNC V24
WorkNC V23 - JE SEDAJ TU !

WorkNC V23
WorkNC V22 - je tu !

WorkNC V22
WorkNC V21
uses
parallel processing
and
multi-threading
algorithms to take advantage of the capabilities of latest core i5 and core i7 processors enabling huge quantum leap in performance
WORKNC MAIN FEATURES :
Integrated CAD & Analysis functions
Standard translators : IGES, DXF, STL,
Direct translators: UGS®, Catia® V.4/V.5, Parasolid® ...
Mold Analysis Functions,
3D surface and solid modeling functions,
Advanced intelligent surface morphing for filling simple or complex cavities,
Automatic 2D Features recognition and cycle definition for drilling, counterboring, reaming, tapping...
Automatic mold and die core separation,
Advanced Electrode module


High performance CAM functions
Automatic geometry and machining zone detection and management,
Specific fluid and progressive toolpaths designed for High Speed Machining,
Full user stock definition (block, CAD, STL),
Dynamic 3 and 3+2 stock Management (Real time toolpath updated),
Complete tool and holder collision check with automatic stock update,
Powerful toolpath editor,
Virtual 3D machine representation and machining simulation (dynamic editing of points and vectors),
Powerful tool and holder library (holder components managed),
Automatic HTML workshop documentation,
User predefined machining sequences for automatic machining,
Machining from STL files and point clouds,
Batch mode calculations,
Comprehensive postprocessor generator (NURBS, cycles, circular interpolation...).
Powerful and optimized CAM toolpaths
Global Roughing and Re-roughing toolpath design and optimized for HSM machining,
A range of specific toolpaths with trochoidal, spiral or plunging movement
Roughing strategies use the Tool and Holder collision check with an automatic update of the stock,
Automatic calculation and machining of rest areas based on dynamic stock.
Re-machining toolpaths enable automatic rest material machining with increasingly smaller tools
Powerful and optimized finishing toolpaths
A wide range of Finishing toolpaths optimized for HSM machining,
Z Level finishing, Planar finishing, Flat surface finishing, Contour finishing, Edge finishing,
Automatic Rest-material finishing with a sequence of progressively smaller tools,
3D Display of rest-material areas,
Automatic 5 Axis converstion possible
Intelligent 2 and 2.5 Axis toolpaths
Range of 2 and 2½-axis strategies,
Pocketing, Contouring, Curve machining, Engraving, Rib machining, Facing, Drilling, tapping ...
Automatic Drilling Module,
Automatic features detection, Pre-defined drilling sequence selection, Automatically generated drilling operations, Deep hole and intersecting hole drilling management,
Customized Postprocessor.
Automatic & Simultaneous 5 Axis toolpaths
Automatic 3 to 5-axis conversion toolpaths - "AUTO 5",
Wide range of Simultaneous 4 and 5 Axis toolpaths,
5 Axis Rolling, Planar finishing, Spiral Blade, Impeller, Tube, Laser ...
Collisions detection and machine limits management.